Growing up in an immigrant family, holidays were never a huge deal for my family. We sent Christmas cards, but never had a tree. We had "Thanksgiving" dinner, but there was always a lot of roast duck, soy sauce chicken and char siu in place of turkey. It's just the way we grew up with Chinese parents navigating themselves in a new culture and family. However, when Chris and I got married, we decided that we'd be a little more traditional when it came to the holidays. For our first Thanksgiving, we were invited to my aunt's home for Thanksgiving. Our second year, we were planning on hosting at our home with a full on Thanksgiving dinner, but my nephew was sick in the hospital and we were spending a lot of time helping my brother's family my taking turns at the hospital that we were too exhausted to do anything.
So, this is the year...except that our baby is due and we may have JUST gotten out of the hospital when Thanksgiving rolls around. We're going to try our best and although it won't be a perfectly homemade Thanksgiving, it'll be the closest thing to it with a newborn. This is the reason why our mantle is also already decorated for Christmas. I do NOT do well when I'm sleep-deprived so I had to start all the holidays early so that we have SOME Thanksgiving and Christmas to celebrate.
Anyhoo, here are some yummy recipes we've collected over the years for Thanksgiving!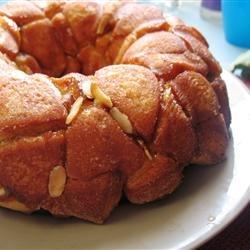 Mmm, I'm getting hungry!